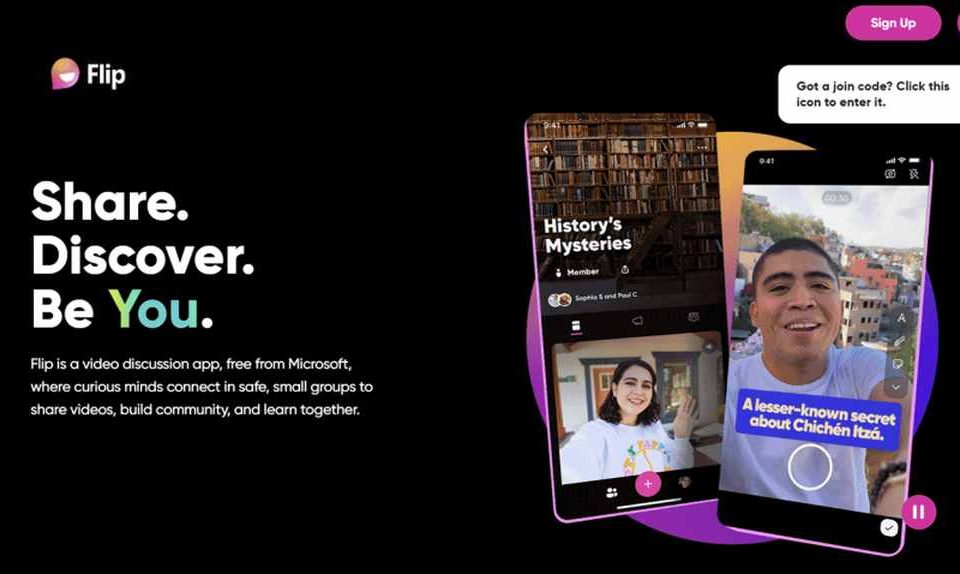 Flip is a simple, free, and accessible video discussion experience for learners and families. The mission of the Flip team is to empower everyone on the planet to share their voice and respect the diverse voices of others. 
Project Maximum Accounts at a Glance
Why? 
Currently, some of our organizational accounts such as higher education students across the world who make up 40% of our user base cannot do lead activities even though they fit our age requirements. Why? When they first signed up via the join code or the group join link they are automatically assigned student accounts.
Another problem we experience is students who are above 13+ want to create lead/teacher accounts to share with their friends like a girl leadership group but they are unable to do that due to our age-appropriate design requirements and GDPR rules.
With maximum accounts for organizations, we are able to promote age 18+ students as leads and with maximum accounts consumer accounts we are able to promote age 13+ members as leads. 
What is this feature?
Some students on Flip might be able to become leaders on the platform. They can find out if they're eligible in a few steps by going through our eligibility flow. We've added thoughtful messages to members who may not be able to use this feature if they are underage on organization accounts or minors on consumer accounts. As a leader,  you can do more and create groups to share with other members.
This feature was created on the Flip web, iOS, and Android app. 
How?
We were able to design this complicated feature that requires security and age-appropriate design reviews due to the sensitivity of working with minors. We performed industry research looking at how Instagram, Youtube, Google classroom, etc., and other products manage to switch accounts with minor user groups who could have professional and consumer accounts. 
We showcased our findings in table format outlining our proposals for 3 user groups in two different experiences (organizational and consumer) and influenced cross-functional decisions with multiple stakeholders. Sherlaine worked with a world-class team of designers, backend engineers, mobile developers, and data scientists to prioritize and release account upgrades to help achieve Flipgrid's ambitious goal to add 2.5mm more leads on both web and mobile.
Outcome: 
Sherlaine's Max Accounts Video

Test it out and create an organization or personal account at Flip! 
Other Flipgrid Duties:
Leads customer feedback requests by ensuring that the Flipgrid community of over 100 million+ in 190 countries have a voice in the features that go into the product. Her dedication has been foundational to building a longer-term strategy and operationalizing YAWLS (You asked we listened) which has helped Flipgrid's product and engineering teams be more successful to build for and with the community. In only 5 months, she captured real use cases on Power BI, analyzed and presented over 1108 customer feature requests/feedback, and translated over 50 features to the product backlog, shipping about 40 already and more in planning for the next sprints. She supports these requests with detailed desktop or mobile UI prototypes to be presented to the leadership team for product road mapping. Upon release, follows up with the community to gather product feedback and satisfaction scores. Her partnership to represent the community voice is much appreciated by the team studios and other program managers.
She has single-handedly ensured Flip's Help center has up-to-date information to support our growing community in the area of self-help. Her impact has been significant in helping propel our self-help strategy in the "How to" space catering to about 400K views a month to month and reducing how-to ticket volume significantly.
Outside of her Program Manager responsibilities, Sherlaine extends her design and creative thinking skills to the team. Her design and creative thinking skills have been a gift to the team to be able to ideate and represent ideas in high fidelity with Figma mockups with leadership, bring customer feature requests to light with product and engineering, and most recently design a whole new UI experience for Helpcenter to enhance the self-help experience for our community.
She is customer-obsessed with resolving complex technical support emails primarily in audio and video mobile experiences. By engaging directly with customers, she can identify and empathize with their needs to bring innovative solutions and bug prioritization.