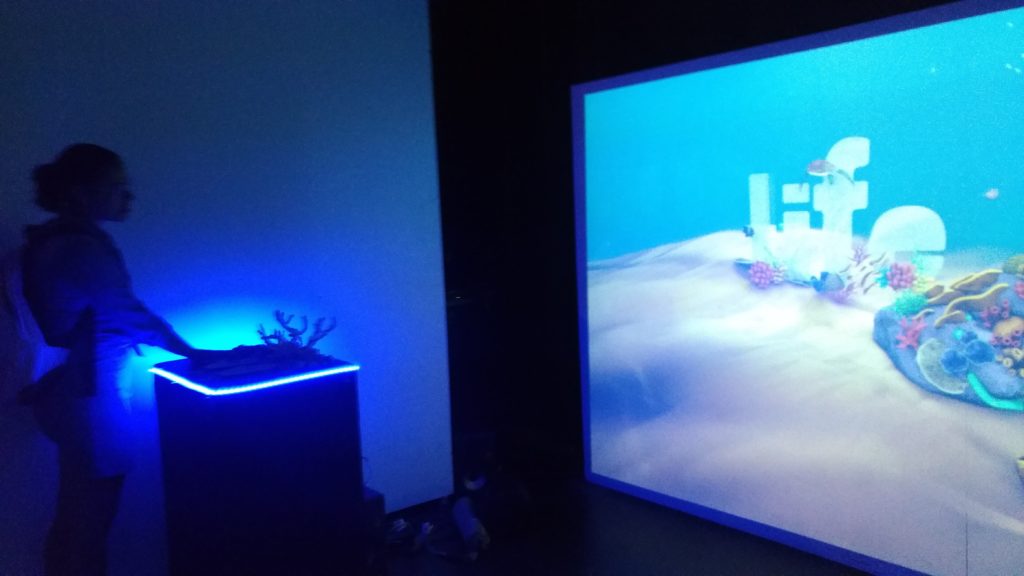 The Story
My team and I were inspired by the film Chasing Coral so we wanted to make a call to action for our display to get people thinking about ways they can help combat the coral bleaching effect. In order to create a connection between the viewers and the ocean, we used an Arduino that would activate upon human connection and would show visual representations of human impact on underwater life.
Our main wish was for the audience to walk away thinking that they have an active role in this world by changing their actions to help combat pollution and destruction to our planet.
The Role

I was the product manager for this project where I lead the brainstorming and design sprint to figure out what story do we want to tell in our digital installation piece.

I had to manage a limited budget, allocate a short amount of time while also juggling other projects and recruiting outside resources to help us develop the human interaction when the user touches the Arduino wires.

This role required a lot of gathering the pieces and iterating on the spot when things did not work out right. Originally, users were supposed to touch a clay hand that was to be mounted on the wall that would trigger the animaition to display. However, the clay did not set right and kept falling off while the wires could not hold. So I improvised and instead we used sponges to give the coral feeling that was placed where the lights and stand were to set the motion that a human action can set the catalyst of destruction to our oceans if we are not mindful of what we are doing.
The Outcome
We created a digital installation at the Hangar Warehouse with a couple of hundred attendees that also included guests from the Siggraph Business Symposium. Some comments that we received mentioned how touching and inspiring our installation was and others felt that the music and lights really contributed to the feelings of remorse that we were trying to convey. Others enjoyed the fact that we had a call to action at the end of the experience to set up the discussion that we can change what we are doing now and make a difference.
To see our user's commitments you can read them here: CDM Chasing Coral Instagram Commitments
Key Services
Product Management
Arduino Integrated Development Software
Digital Installation Building
3D Art Composition
Storytelling